Home
Latest News
About Us
Rainbow Bridge
Fern
Tia
Evie
Charley
Sevi
Tigger
Zuri
Talisker
Alfie
Pedigrees
Current Litter
Previous Litters
Health Tests
Links
Contact Us

Fern's Litter born 24th March 2008


Goytre Image Of Paradyse At Jupavia x Show Champion Goytre Prince Of Dreams JW ShCM



Fern gave birth to 8 puppies early morning of Easter Monday 24th March 2008.
4 dogs and 4 bitches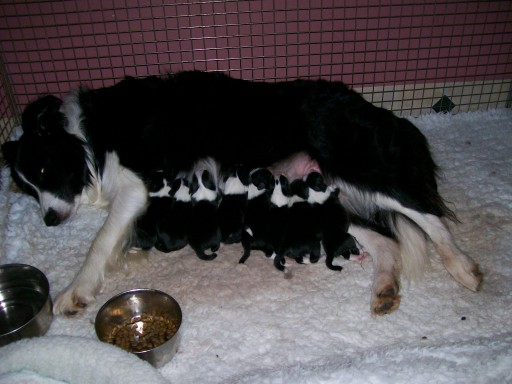 All 8 in a row on their first day
We were very proud of our second litter and of course of Fern who managed to deliver them in three and a half hours on the morning of Easter Monday 24th March. There were 4 boys and 4 girls with birth weights from only 6.2 oz to 10.9 oz. with most of them between 8 and 9 oz.

Fern proved once again to be a very attentive Mum who is very reluctant to leave her babies. During the first 24 hours she had to be dragged away to go to the loo. She waits for her food and drink to be taken to her as she couldn?t possibly move away from the puppies.



| | |
| --- | --- |
| To busy to stand up and eat | Asleep with Mum |


Latest Progress



Mother and Daughter



Mother and babies are all doing well
Fern is producing lots of milk but with 8
puppies they are drinking all she can produce.



One of the Boys



Little Dot is growing well and is no longer
needing a bottle. The only help she needs now
is us making sure she gets to the milk ahead of the
others. Once feeding even the biggest can?t
knock her off. Dot was 1 lb 5 ozs when we weighed
her at 11 days and although still has some way to
go to catch up with her big brothers. It is becoming
more and more difficult to pick her out from the rest
unless you can see the dot on her head.



Sisterly Love



They are all having lots of cuddles, in fact,
there is always someone in the pen with them.
Fern is happier to leave them for short periods now
and has started going out for a walk with the others.
If there is the slightest squeak from the pen she is
in there like a shot.



I was here first



There is no sign of them opening their eyes yet but
that should start happening in the next couple of days.
It will be at least a week later before they can hear.
They are trying to walk now but are having trouble lifting
their bellies off the floor.




Day 12



All in a mess



The puppies have now started on solid food
and have taken to it like ducks to water.
Although Fern still has lots of milk 8 puppies
are drinking her dry. We have noticed that they
were sleeping for shorter periods between feeds.
They have as much plastered all over themselves as
they manage to consume. Fern is quite happy to clean
them up when they have finished oh and of course clean
the plate as well.




Here is the litter at 8 weeks just before they went to thier new homes


| | |
| --- | --- |
| Merlin | Sasha |
| Sydney | May |
| Lexi | Evie |
| Ralph | Alfie |