Home
Latest News
About Us
Rainbow Bridge
Fern
Tia
Evie
Charley
Sevi
Tigger
Zuri
Talisker
Alfie
Pedigrees
Current Litter
Previous Litters
Health Tests
Links
Contact Us
Evie's 2nd Litter born 3rd July 2013


Jupavia May Be Dreaming X GER CH, AUT CH, GER JCH, AUT JCH, Simaro Dressed In Black

| | |
| --- | --- |
| Jupavia May Be Dreaming (Evie) | Simaro Dressed In Black (Bo) |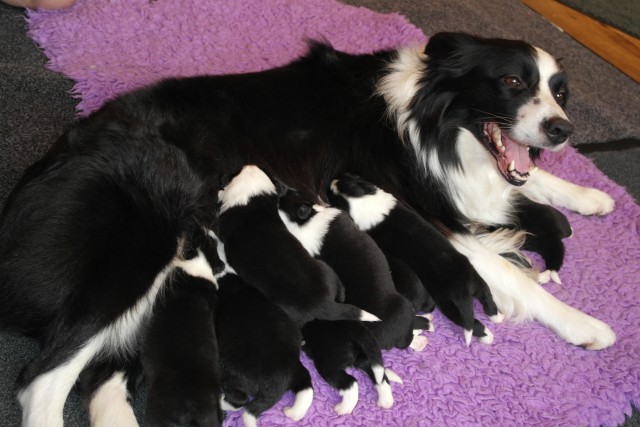 Evie and her Puppies



On Wednesday 3rd July 2013 Evie gave birth to a beautiful litter of 9 black and white puppies. We kept one boy (Zuri) and one girl (Talisker).

Bo is GER CH, AUT CH, GER JCH, AUT JCH, Simaro Dressed In Black (fully health tested)
There are many more pictures of Bo on the Simaro Web site www.simarobordercollies.com/border-collies/
Evie is Jupavia May Be Dreaming

Vicky traveled out to Germany with Evie for this mating and we are all so pleased she did !
Bo lives with several other stud dogs and bitches all of whom live together. Bo has stunning looks to go with his stunning temperament.


Some pictures of Evie


Some pictures of Bo


---